2019 Season for Ensemble 44

for our 2019 season we will present music inspired by Saint Cecilia: Renaissance and Baroque era works, from Lassus to Purcell.
Concert Dates
Sunday, February 3, 14:00
Loring-Greenough House
Jamaica Plain
Loring-Greenough tickets from EventBrite
Includes tea. $15
Saturday, February 9, 18:00
St. John's Episcopal Church
Arlington Center
St. John's tickets from BrownPaperTickets
Includes light supper. $20
Sunday, February 10, 15:00
Church of the Covenant
Back Bay Boston
$20 at the door.
and a Boston Early Music Festival BEMF fringe event in mid-June.
Our musicians
Kendra Comstock, soprano
Chris Talbot, baritone
Hannah Davidson, viola da gamba
Kathleen McDougald-Lee, harpsichord
Nouri Newman, recorders and flute
Ishmael Stefanov-Wagner, violin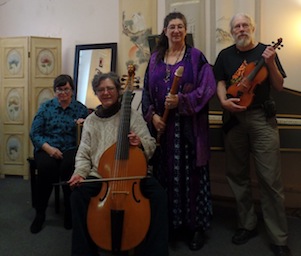 Download a PDF poster for this event (446kB).
Another PDF poster for this event (2.9MB).
Program
Welcome Every Guest, Rev. B. Hicks, 1854
text altered from John Blow's Amphion Anglicus, ca. 1700
Suite 2 from Banquetto Musicale, Johann Hermann Schein, ca. 1617
Padouana - Gagliarda - Courente - Allemande - Tripla
Sonata Prima, Isabella Leonarda, ca. 1693
Allegro - Largo - Adagio - Aria Allegro - Adagio - Vivace
Cantantibus Organis, Orlando di Lasso
Prima Pars - Secunda Pars
Cantantibus Organis, Luca Marenzio
Come my Celia, Alfonso Ferrabosco the Younger
Polyhymnia, Michael East

Music, dear solace to my thoughts, Francis Pilkington

Welcome to all the pleasures, Henry Purcell

Our 2017 Season
Our 2017 program was of works inspired by the biblical story of Susanna and the Elders.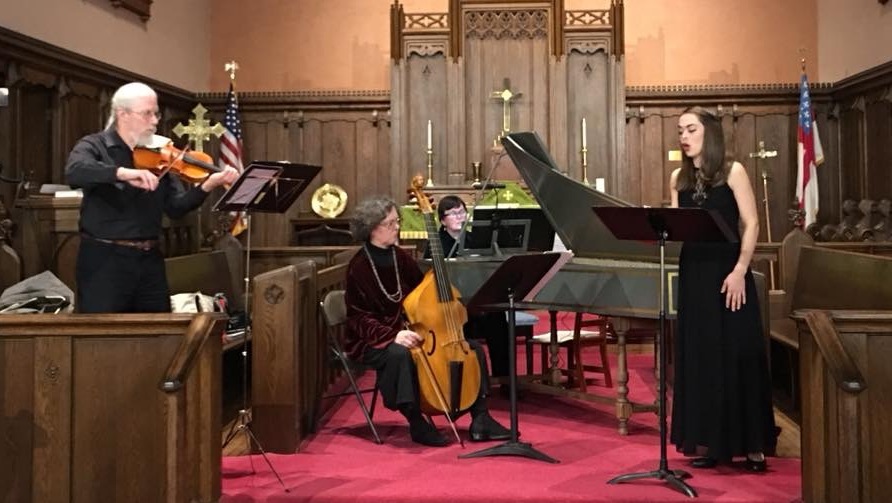 Ishmael Stefanov-Wagner, violin
Hannah Davidson, viola da gamba
Kathleen McDougald-Lee, harpsichord
Maddy Ross, soprano

---
Ishmael Stefanov-Wagner Last modified: Fri Jan 25 17:28:42 EST 2019